When I mentioned to my family that I wanted to use cloth diapers, you should have seen the looks that they gave me.
"You want to use what?"
"Why would you want to use those?"
"Who gave you that idea?"
Even still until this day, when I tell someone I cloth diaper, they still imagine these prefolds, and safety pins. Then, comes the explaining of modern cloth diapers, and why I LOVE THEM! However, This is all my Aunt Karine's fault she got me started.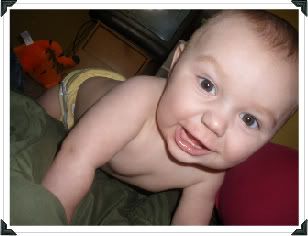 Matthew, My Chunky Bum Boy
Matthew is 9 months old, and growing fast. He is adventurous, curious, and most of all a little chunky bum. He has been in cloth completely, I am proud to say for the last 6 months. Not even one disposable diaper has touched his bum! How did I handle the "iffy" family members? Easy, I didn't give them a choice. When I need a babysitter, I send him only with cloth, not one disposable. I tell my family to leave it in the wetbag, (which I have to explain what that is) and I will take care of it. It's that simple.
I love to use Rockin Green on my dipes
Modern cloth has come a long way from when I was in diapers, from 1989 to 1991. My mother, and grandmother, cloth diapered me for about 1 week. Some people can stomach it, some people can't. They were the ones that could not. I believe they said they got me with the safety pin, about 10 times and my grandmother threw up about double that number.
Hook and loop, and snaps now replace the pins, and waterproof fabric outside and an absorbent inside of a one piece diaper, now replaces the prefold and waterproof cover. How much easier could it be to cloth diaper a baby? It couldn't!
What gets hard is finally making a decision of which cloth diaper is right for you and your baby. It all depends on size, rise, age, ect. My son did great in the bumGenius 3.0 AIO until he learned to open the Velcro… (Oh My, That was a MESS!). Now, we use snaps. I Love the snaps!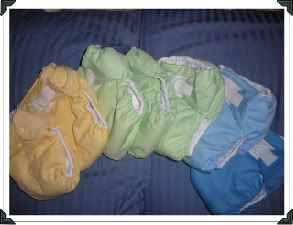 bumGenius 4.0 w/ snaps, the rest are bG 3.0 AIO's
So It has been decided unanimously by me, mommy, that we LOVE bumGenius! Their new 4.0 One Size is a blessing in our household.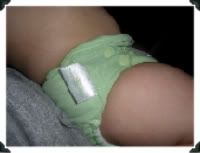 bumGenius 4.0 fits great on his chunky leg
As you read above we loved the 3.0 AIO's, but when this 4.0 came out, it was a must have for me. Matthew cannot undo the snaps, which is a blessing in disguise, since we have already had 2 poopy messes! The diaper came with a insert for the medium and large setting, and the newborn insert. We actually use both inserts in this diaper because Matthew must have a Waterfall when he pees, and pees through most anything else! These are so generous in the sizing that it even fits his chunky thighs on the medium setting, and most everything else he is in a large. He is 30in long, and 22lbs at 9 months old, so I am sure why you can see we use larges on his chunky bum.
We have also decided to give up using disposable wipes in this timeframe too. We use the 9x9 cloth wipes I make here at home. One side terry cloth, one side snuggle flannel. Matthew loves these ones; I always have to give him one of his own when I change his bum. They are so colorful, and they help him with his hand eye coordination.
We are 6 months and going strong being a cloth diapering family, and very proud of it. We tell everyone we know.
Most people who do not cloth diaper think that the diapers are "bulky" and you can't put regular clothes on with them. Which they really are not. But, there is a solution for that if you still think so. There are Baby Legs! Baby legs are the baby version of leg warmers, and they are so darn cute!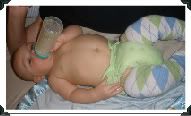 Matthew in his cloth diaper bG 4.0, and baby legs!
So for those of you who have recently switched, congratulations on making the decision to use Cloth! You are helping the environment, and your wallet! I want to know, why did you decide to go with cloth?
For the pro's, do you remember what made you switch? What drew you in? I would LOVE to know.
On the fun side…Here is my cute little chunky bum in his fluff!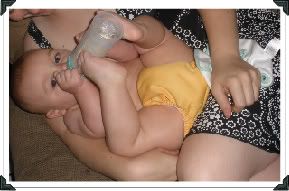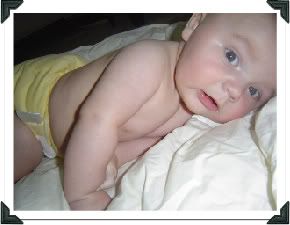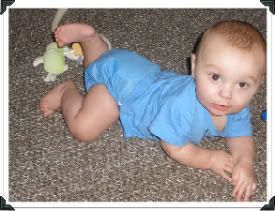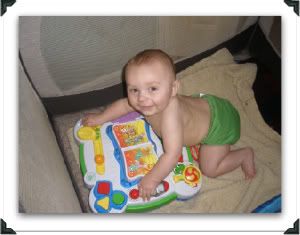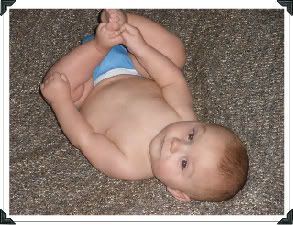 I really hope you enjoyed our adventures and our pictures. If you would like to see more of us, come check out our blog,
"Lions, and Tigers and Boys Oh My!"